Below you will find answers to the most frequently asked qustions. Have a question that you do not see answered?  Please feel free to contact The CERT Guide.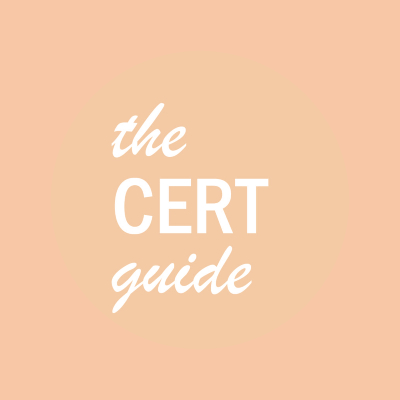 Frequently Asked Questions
What is The CERT Guide?
The CERT Guide is Ms. Julie Collinsworth, MBA.  Julie has over 25 years working in new product development, helping entrepreneurs launch concepts in a variety of industries. She also has experience teaching at the University level and incorporates her teaching style into the course taking a difficult process and making it easier to understand.
Julie has launched over 15 concepts through the years with varying degrees of success, including her own concept which she grew to 65 US markets before franchising.
You can learn more about Julie on her LinkedIn account
What is WBENC?
"WBENC is the largest certifier of women-owned businesses in the USA and a leading advocate for women entrepreneurs. 
The Women's Business Enterprise National Council (WBENC) is a leading non-profit organization dedicated to helping women-owned businesses thrive.
We believe diversity promotes innovation, opens doors, and creates partnerships that fuel the economy. That's why we not only provide the most relied upon certification standard for women-owned businesses, but we also offer the tools to help them succeed."
You can learn more about WBENC here.
What is WOSB?
WBENC is an approved third-party certifier for the SBA's Women Owned Small Business (WOSB) Federal Contracting program.
Any women-owned business that applies for WBENC Certification may also simultaneously apply for WOSB certification through WBENC.
If you would like an opportunity to do business with the Federal Government,  this is an additional benefit.
How do I know if my business is eligible?
WBENC Certification is considered the gold standard for women-owned business certification and is accepted by more than 1,000 corporations, in addition to many states, cities and other entities.
Certification Eligibility Criteria:
Majority (at least 51%) ownership by one or more women

Demonstrated proof of female management and control of business

Unrestricted female control of the business in legal documents and day-to-day operations

A woman holding the highest defined title in the company's legal documents

Documented evidence of female contribution of capital and/or industry expertise

Status of U.S. Citizenship or Lawful Permanent Resident for woman owner(s) constituting majority ownership
How is The CERT Guide associated with WBENC?
The two are separate entities and not associated at all.  Julie has worked with many women business owners over the years and seen the benefits of certification.
She has also seen how entrepreneurs, including herself, are often overwhelmed working "on the business" and wanted to create a simple process to support women and minority business owners through this process.
If it's free to apply for WBENC, why should I pay for this class?
You can absolutely do the WBENC process on your own.  It is just you gathering all the documents and submitting an application.
This class helps you systematically gather all the documents, allows you a person to access for questions that you may encounter along the way and holds you accountable each week.  The women who have worked with Julie have said, "she made this so easy", "I can't believe I finished this so quickly", "I can't imagine doing all of this on my own".
Julie creates a team environment to allow the women in the group to work together and network a bit as well.
Why is it on Zoom?
Just like the rest of you, Julie is Zoom fatigued.  However, she found that having the class on Zoom allowed the women to be in their offices, which allowed easier access for documents needed for this course.
Do you guarantee certification?
Certification is not guaranteed, but an application submission is,  IF you do the work associated with the course.  WBENC will assign your application to a regional council and they will review your paperwork, do an onsite interview, and determine if your business qualifies.
Why should I get certified?
Certification allows corporations to designate their supplier spending with you as diverse.  Many corporations are looking to increase their spending allocations with women and minority owned companies.  Being certified helps identify your business as a key option for them. 
Being certified also helps you work with Diversity Supplier designated folks at corporations.  This is often another option within a corporation that may be difficult to navigate.  WBENC provides many resources to access these key individuals.
Fundamentally, certification is a marketing tool for your business.
Will it really make a difference to our organization?
Benefits of certification for women-owned businesses includes:
Access to supplier diversity and procurement executives at hundreds of major U.S. corporations and federal, state, and local government entities that accept WBENC Certification.

Formal and informal opportunities to pursue business with Corporate and Government Members, as well as with other WBENC-Certified WBEs.

Access to networking events, procurement opportunities, mentoring, executive education, capacity development programs, and other business tools and resources.

Eligibility for regional and national recognition and awards.

Use of Women Owned Logo and Women's Business Enterprise Seal as a marketing tool to promote your business and expand your company's visibility.

Community of support from other female business owners and like-minded professionals all dedicated to the growth and success of women-owned businesses.
How long is this going to take?
The class will meet eight (8) times over the course of nine (9) weeks.  The week we do not meet is a catch up week. This allows you to get caught up on assignments you may have trouble locating or needed additional time.
The first class is the longest with additional weeks as opportunities to ask questions.  
The first class will be about an hour.  Following classes will meet for about a 30 minute check-in.
Classes are currently on Friday mornings.  There will be two sessions.  The first is 8 am EST/5 am PST and 11 am EST/8 am PST.
You can join one or the other.  Once you register, you will receive an email where you will determine your preference.
Will I have homework?
YES!  You will have homework.  WBENC requires a variety of documents from your business, depending on your legal structure. 
Gathering the documents is the homework.  The order of the document gathering is key as some items are required to be current within 30 days of application submission.  For a list of the documents, WBENC provides a full list here.
If you are running a business, then the homework should actually already be completed, but locating them might take time as they may be with an attorney or other key stakeholder associated with your organization.
What happens if I miss a class?
No worries.  You will still receive an email with the homework assignment.  The homework assignment is actually the most important aspect to the class.  These assignments/documents are the items to use for your WBENC application.
There are also two (2) classes a week.  So if you cannot make one, feel free to join the other class.
What is the cost for the course?
The cost for the class is $599.00 payable upon registration through Eventbrite.
What other costs will I incur?
WBENC does charge a fee for the certification process.  It is based on your businesses revenue.  That cost will be paid upon submission of the application and paid to WBENC directly.  The breakdown follows:
Revenue Category
Under $1 million: $350
$1M < $5M: $500
$5M < $10M: $750

$10M < $50M:

$1,000
$50M+: $1,250
What are the goals for this class?
The goal of the class is to gather all the documents needed for WBENC certification and create a structure for easy renewal every year.  It also allows you to have all your important documents in one location.